Manufacturing from a single source for quality that convinces
As a renowned partner for companies in the automotive, electronics and solar industries, medical technology and the white goods and defense sectors, Strunk Connect develops complete solutions for connecting non-ferrous metals using resistance welding technology. At home in process technology for more than 45 years, we have extensive know-how and extensive competencies in the following resistance welding technologies: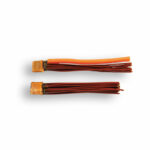 Resistance brazing and soldering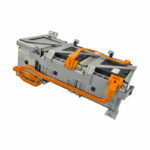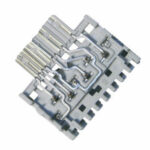 Automation ensures quality and speed
In many areas (e.g. high-voltage technology), economic production is hardly conceivable without automated processes. In addition, quality and traceablility (traceability) are often also in the foreground. STRUNK is your competent partner for the industrialization of your products. In addition to our core competence, resistance welding of non-ferrous metals and cables, we have specialized in the automation of flexible parts in connection with our core competence. In addition to the core processes, this also includes tasks in assembly, feeding technology and stamping/bending automation, laser welding, component testing (end-of-line testing) and other customer-specific applications.
In parallel to our manual workstations according to your needs, we can develop automation concepts from semi-automatic machines with manual assembly to fully automatic and linked production lines and manufacture them in-house.
Our automation concepts include linear transfer systems for wire processing, interlinked systems, tool carrier systems, rotary indexing tables or flexible robot solutions as well as combinations of the above-mentioned concepts. All concepts and systems are developed in-house from planning to completion.
We equip our resistance welding technology with our own controls and power sources for the desired frequency ranges. Since we realize the STRUNK machine software in block programming, all functional interrelationships are available in specially accepted blocks and are parameterized for commissioning. This guarantees functional interrelationships and allows us to keep commissioning periods particularly short. By default (other systems are also possible) we use Siemens S7 controllers in the Classic world or in the TIA portal. Thus, another advantage is that we get the same HMI (Human Machine Interface) on all plants in order to provide our customers with the same menu navigation on all types of plants.
For our OEM customers in the automotive industry, we also offer a Transline and HMI Light programming.
In order to industrialize the processes, STRUNK offers a consulting service to implement automation in the entire workflow (installation spaces, alloys, surfaces (coatings), accessibility, components to be used, injection molding installation spaces) and to be able to manufacture later in series in a process-safe manner.
Our know-how for your company
With our core competence, resistance welding of non-ferrous metals, we have positioned ourselves in all relevant markets such as Europe, Russia, North America (USA, Mexico), Asia (China and India) as a technology leader in the areas of joining technology of non-ferrous metals especially in the field of high-voltage / low-voltage board networks, battery management and e-traction as well as powertrain. With our systems and their automation, we support companies around the globe with sophisticated solutions to optimize their manufacturing processes.